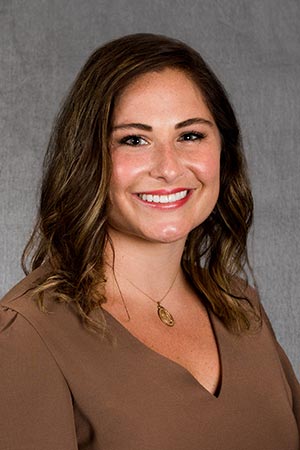 Lindsey R. Mills, D.M.D.
Dr. Lindsey Mills attended The University of Alabama where she graduated cum laude in 2012 with a degree in Spanish. While attending Alabama, Dr. Mills was a member of the Phi Sigma Theta National Honors Society and was a recipient of the Benito Pérez Galdós Award for Excellence in Spanish.
After receiving her undergraduate degree, Dr. Mills was a dental assistant for Drs. Wood and Spooner before she moved on to pursue a Master of Science in Biomedical Sciences at the Philadelphia College of Osteopathic Medicine in Suwanee, GA. Here, she was a member of the Alpha Epsilon Lambda Honors Society and was a recipient of the Faculty Award in Biomedical Sciences.
Dr. Mills achieved her Doctorate of Dental Medicine (D.M.D.) degree at the University of Alabama School of Dentistry in 2019, where she served as the first female Class President for four consecutive years, and received numerous awards, such as the American Academy of Implant Dentistry Certificate of Recognition, the Eleanor J. Bushee Award for Leadership, the UAB Alumni Award for Leadership and the Alabama Dental Association Student Leadership Award.